Beer - Risotto - Rice cakes
We make amazing beers from grain-to-glass at our farm in the countryside of Milano.
A beer is only as good as its ingredients, so therefore we use only our expertly grown barley and hops which are responsible for the distinctive flavor of our Italian Artisan beer.
Clean and refreshing beer with a clear artisan imprint accompanied by an elegant floral aroma of hops. Thirst quenching with a slightly malty taste.
Style: GERMAN BOHEMIAN PILS

Double malt beer with hints of caramel and a light rhubarb aftertaste. Dark coppery color.

What complements our beer better than
our tasty and natural Marisole Risotto?
We can finally offer you a simple and tasty
gastronomic novelty, that will come in handy if you are the designated cook for dinner but you don't exactly
have plans to take part in Masterchef, or will be there
after a long, exhausting work day.
After an accurate selection of the ingredients, we're proud to present our
pre-made risotto, available in two flavors: saffron and
mushrooms. You just need to add some water and in a
few minutes you'll have a dish that will satisfy even the most demanding guests!
Our risotto is a synonym of quality and genuineness:
the chosen rice, Carnaroli kind, is grown strictly in our
fields and it's the product of agricultural knowledge
that has been handed down for generations.
A classic of the milanese tradition, simple but irresistible! The characteristic aroma of this recipe will be enough to make your mouth water, but just wait until you taste it … it will exceed your expectations!
Who doesn't like risotto with mushrooms? Perfect for  winter days, the delicate flavour of this recipe will keep you company even in the gloomiest days.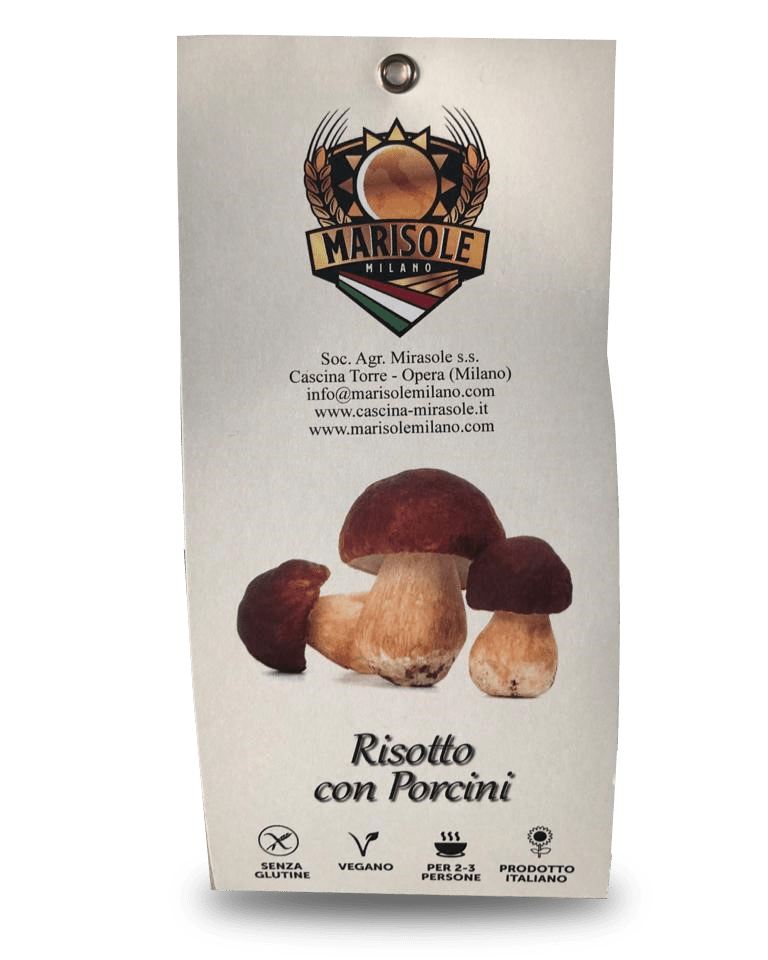 Rice and Corn Cakes for every occasion.
Light, tasty and crunchy.
Light, tasty and crunchy. Perfect as a snack when you are on the go or simply for when you feel like munching on something without guilt.
Also available in four special flavors:
Spirulina rice cakes: packed with nutrients and low in calories, Spirulina is a great source of antioxidants that give the alga its characteristic blueish colour. In addition to that, it also aids against the oxidation of bad cholesterol and holds anti-inflammatory properties.
Matcha rice cakes: Matcha is a variety of green tea high in catechins, a powerful antioxidant that is linked to a variety of health benefits, such as fighting free radicals and better brain function. In need of a boost of energy? Want to improve your focus and memory? Then this is the perfect product for you!
Turmeric rice cakes: This spice has been used in Ayurvedic medicine for thousands of years, with good reasons; its active compound curcumin is a natural powerful antioxidant and anti-inflammatory. Turmeric has also been shown to lower the risk of heart disease by improving the endothelial function.
Ginger rice cakes: Ginger has many properties and health benefits. 1 gram of this spice can help treat nausea and post-exercise muscle soreness. New studies are exploring the possibilities of it having anti-diabetic qualities.
Our classic recipe with a twist, produced using exclusively our corn. Perfect as a snack when you are on the go or simply for when you feel like munching on something without guilt.
We are currently serving companies in Italy and in other countries. however, we are always looking for more partners to expand OUR BUSINESS WORLDWIDE.